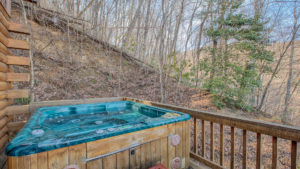 This charming smoke-free cabin, nestled in the mountains of the Maggie Valley Country Club at an elevation of 3500 feet is so easily accessible yet away from the everyday stresses of life.  You will enjoy tree-mendous views while soaking in the hot tub.  Bearadise is perfect for large family/friends gatherings or an intimate getaway.  Each level has a bedroom and bathroom while the lower level has a private entrance.  There are games, DVDs, VCRs, CDs,  puzzles and books for your enjoyment. The cabin has central air & heat and ceiling fans throughout and the kitchen is fully equipped to whip up your favorite meals.
Maggie Valley is situated on US 19 about 30 minutes from Asheville. About 10 minutes from the quaint town of Waynesville, where Main St boasts many fine restaurants, shopping and free weekend concerts in summer time.  Roughly 45 minutes away is Cataloochee National park where Elk have been introduced.  The best times to see the Elk is early morning just after sunrise and close to sunset, though the drive after dark is not for the faint of heart.  Maggie Valley Country Cub is well known for their beautiful golf course, golfers come from all over just to golf there.    Lake Junaleska has a public pool, golf course, lake and a 3 mile walking trail around the lake.  Nothing better than a sunset walk providing gorgeous views and healthy exercise. There are a couple of entrances to the Blue Ridge Parkway with in 10 minute drive, with outlooks that are a must to visit.
Cataloochee ski resort is about 7 miles away but about a 20 minute drive and is something to see even in the summer.  There is ALWAYS something going on in Asheville, from Friday night drumming concerts (usually not in deep winter months) to many weekend festivals, special events and gift & antique stores.  The Biltmore Estate is also a sight to see just minutes from downtown Asheville.  There is Beautiful Lake Junaleska with a circular walking trail that should not be missed,  lovely for a sunset walk.
Bryson City and Nantahala National Forest is home to all types of water sports-kayaking, canoeing, white water rafting, fly-fishing and the Appalachian Trail. From Bryson City downtown you can take a ride on the Great Smokey Mountain Railroad up through the Nantahala National Forest, stopping mid way at the white water rafting site.  Up to the Damn and return.  You can also pick up the Great Smokey Mountain Railroad in Dillsboro and ride it to the Bryson City station.
A bit farther away (about 2-3 hour beautiful ride)  through the Great Smokey Mountain National Park (where you will find the most beautiful water falls) are Cherokee (about 35 mins), Gatlinburg & Pigeon Forge Tenn.  Cherokee is the home of the Cherokee Indian Nation and you guessed it GAMBLING at Harrahs casino.  Gatlinburg & Pigeon Forge are sister cities with plenty to do and GREAT restaurants.
We are confident you that you will love Bearadise and Maggie Valley as much as we do and will want to return again and again.
Only one rule in Bearadise……
Please no smoking inside the cabin.